Hanz's Note : This was posted in former blog on December 12, 2010.
You know what my Gynae said when she shown us the ultrasound?

"Look at the baby, he or she is waving & say Hi to Papa & Mama..."

Yup, we saw it and the emotion felt mixed between awe, touch and funny. =P

The hand & the leg is getting clearer at 11 weeks...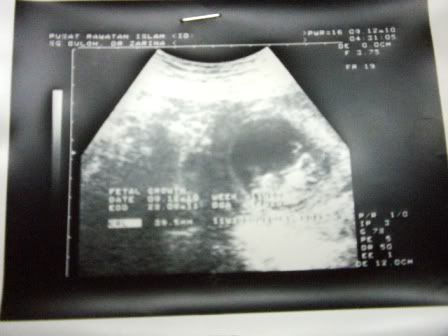 And, guess what I bought for the lil H first belongings?
Fitted Cloth Diaper! I caught the fitted bug lately and oooohhh..I tell you the Cute Tooshies is OS Fitted and it is so soft and squishy...the Motherease Sanydy quite big for newborn though I got the smallest size one and the Little Beetle is so so cute!


And besides fitted, I also got the converted prefold...it is like a lampin (flat muslin square) being folded and sewn to become converted prefold. You can either snap it up with Snappi or the traditional pin. It is quite thick compared to lampin and can hold more pees so you can opt either to wear with or without cover. And, I think mine I'm going to wear it without cover for daytime only & lay-on flushable liner inside in the early days to manage the frequent runny poo.

About myself, nothing much to say...no weird cravings but I am quite choosy on what I want to eat. It is always different food, different time. And, yup, I stop coffee immediately.