The festive season is still lingering. Muslims are still celebrating Eid Ul Mubarak or more noted in Malaysia as Hari Raya.
We celebrated these days at my parent's house in Seremban. Off we started our journey on last Sunday night, had to do last-minute shopping while still in KD and came back on last Wednesday evening. Roughly we were travelling around 3 days and 3 nights.
We had two boys still in diapers but luckily our 3 years old are toilet-trained so less hassle to mind of. Happily to report that we managed to cloth diapers them both 100% despite travelling and rainy season. How I packed their stuff? Let's see....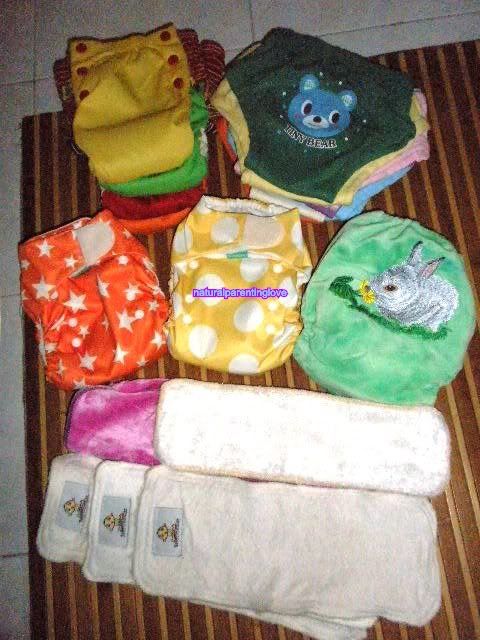 These were our 3 years old loads consisted of :
For Daytime
:- 4
Antsy Pants 2T
(more like training pants),
7 pieces Training Pants,
1 Customised OS Pocket CD -
Preston Pants
using Knickernappies Loopy-Do Insert
Boosters for nights : 3 Baby Doodlez Zorb+Hemp / Zorb+Bamboo,
1 Trifold Bamboo Fleece, 2 Totsbots Booster
These were our almost 2 months old baby loads consisted of :
2 Suede Insert Socks, 4
Grovia AIO
, 2 Prefolds, 3 Flats (Lampin),
I did'nt separated day and night used cloth diapers as they are interchange.
RM22 for 18 pieces. Last 2 hours for my heavywetter baby.
Others : 4 small trial packs of RGD, 2 Wetbags (large & medium),1 dozen small hanger, 1 small round hanger,1 dozen small cloth pegs, 1 small spray bottle, 1 small baby liquid wash,
6 pieces cloth wipes, 1 leftover roll of Grovia Bio-liners.
All stashes could fit in this medium-sized luggage bag!
OUTCOME : I did'nt used both flats & prefolds at all & still have balance of 2 Grovia Biosakers & 5 MyEcoNappy Biosoakers.
TIPS on CD-ing while travelling :
1. Travel light.Get a nice luggage bag just for cloth diapers.
2. Esimated how many days on travelling and times them with per change and includes spare cloth diapers.
3. Use quick-dry and easily-interchangeable system. I recommend Flip systems as it can interchange with it's own stay-dry inserts, dispos biosoaker, microfibre inserts inside insert socks, prefolds and flats. Forget bulky fitted and pocket types. I used Grovia AIOs as it trim aand nicely fit under pants and yet very absorbent plus quick dry too.
4. Wash them immediately once soiled. For this, I hand-wash for each laundry per day.
5. Bring several boosters as you can lay-on inside diapers to increase absorbency.