The Premier Journey with Hanafi, my first son
When I found out that I am expecting a baby, I knew that I am going to breastfeed my baby. It was without any influence from anyone. But, I did'nt think much about the part whether I am going to fully breastfeed my newborn or how I'm going to work it out. I care less about educating myself. I had the urge but no initiative. I thought it's going to be simple. I thought it is natural and any new mother should know how so why bother learning all about breastfeeding?
That was my biggest mistake. I did'nt learn.
Consequences due to my ignorance, I suffered blocked ducts (swollen veins) on both breast during my confinement. I don't know how to properly latch on the baby during nursing till my baby cried his heart out. I was totally depressed at that time.
Then, after I overcome those pains, it was a smooth journey of breastfeeding but it did'nt last like that long enough. I knew that I am going to prepare on pumping & stocking expressed breastmilk when I'm back to work. The first pump that I used was Pigeon (as in pic)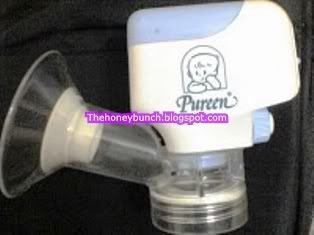 I have to give thumbs down for this one. I also bought few small bottles for EBM stocking (as in pic).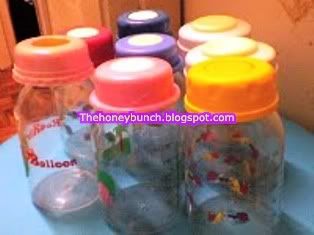 Then I've realized if I'm going to work & baby in nursery, how am I going to transport EBM?
Searched high & low for an appropriate cooler bag or box but none suits my needs. It's either too bulky & big(imagine the Coleman Cooler Box) or not chill enough (I need cool temperature up to 8hours daily). Then one fine day while browsing the internet, I stumbled upon one online shop (thanks www.littlewhiz.com) that caters for parent's needs such baby stuff & so forth. There, I saw the Tommee Tippee Cooler Bag (as in pic).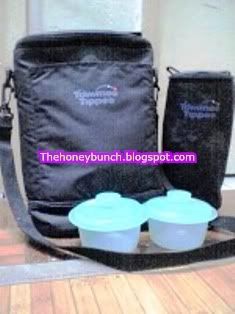 Then I did'nt know imported baby stuff can be a bit pricey but what the heck, I've just placed an order. It comes with one chiller (not in pic), 2 milk container & extra bottle tote. I was thrilled with my new merchandise. It motivated me more on this journey. But its still rain while the sunshine is still there. My milk production was getting low till I've to surrender on supplementing my baby with milk powder. It goes on like that until he was 7months old. I knew my mistake but I don't know how to correct my mistake. Once again, the internet came to my rescue.
Searched here & there, I stumbled upon one local website that it's main objective is to provide support for mothers in breastfeeding. The forum & tips did helped me a lot.
Thank you so much MyMomsBest & Lilian Chan & all the wonderful Moo-mies there.
(to be continued)